Go Play in the Dirt with Your "Tonka" Edition F-150 or F-250 Truck in Brownsville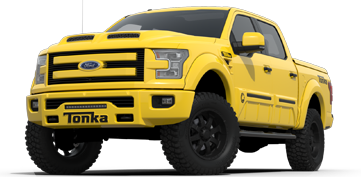 The Ford Tuscany Tonka F-150 and F-250 special edition trucks bring to life the Tonka-brand toy construction trucks made by Hasbro that you played with in the sandbox as a child. The "built-for-fun" Tonka trucks are made by Ford Tuscany, the leading specialty truck modifier for the Ford Motor Company, and feature a customized body kit. Special design elements include:
Fender Vents. Functional fender vents with Tonka badges allow for enhanced engine cooling.
Door Cladding. Exclusive door cladding prominently featuring the Tonka logo, to project a playful and confident stance.
Front Bumper Fascia. The front bumper cover is integrated with black billet and embossed with the Tonka logo.
Hood. A functional Ram Air hood complete replacement with dual intakes, and a two-bar yellow-painted grille with black billet inserts.
Rear Tailgate Cladding. The special back tailgate cladding is also embossed with the Tonka logo.
Step Bars. The special 5.0-inch Nerf oval step bars have black powder-coated paint and the Tonka logo.
Exhaust. The Quiet-Tone Performance Exhaust is stainless steel with black powder coated exhaust tips.
Each Tonka F-150 and F-250 not only looks ready for rough play, it's tough and built for serious off-road duty. Each Tonka truck features 20-inch wheels and 20-inch BFGoodrich All-Terrain 325 heavy duty tires, extra ground clearance courtesy of a 6.0-inch suspension boost and special heavy duty Tuscany-built shock absorbers. Inside, the exterior yellow Tonka theme carries over to special leather upholstery and door panel designs, as well as custom floor mats.
Under the hood, the Tonka F-150 is now available with two excellent new EcoBoost engines, in addition to a 5.0-liter V8. There's a 2.7-liter twin-turbo V6 that makes 325 horsepower and 375 pound-feet of torque, while the larger 3.5-liter twin-turbo V6 delivers 365 horsepower and 420 pound-feet of torque. If you opt for the F-250 model for your Tonka, you have a choice of either a 6.2-liter V8 that produces 385 horsepower and 430 pound-feet of torque or the big 6.7-liter turbodiesel V8 that cranks out 440 horsepower and nearly a full ton of torque - 925 pound-feet to be exact.