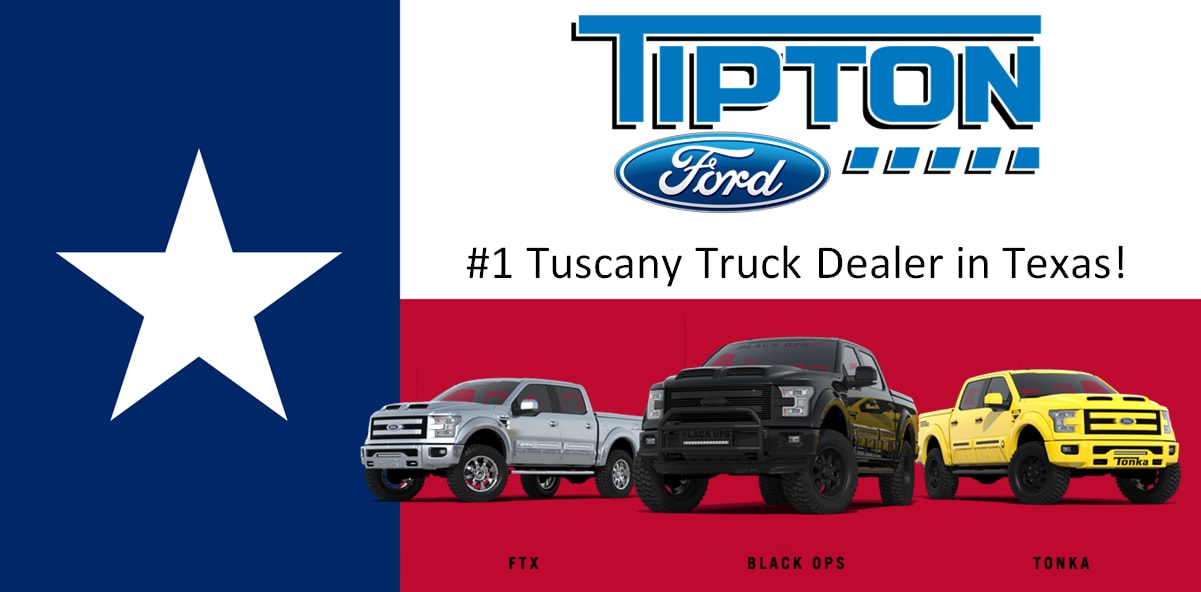 What is Ford Tuscany?
Tuscany is the premier specialty truck manufacturer for the Ford Motor Company, and today Tipton Ford Brownsville is the #1 best selling Tuscany dealer in the great state of Texas! Since 1988, the design engineers and technicians at Tuscany, based in Elkhart, IN, have been building special, limited-edition versions of Ford's industry-leading F-150 and F-250 trucks.
Ford Tuscany includes three models: the FTX, Black Ops and Tonka.
FTX. The FTX is the flagship model of Ford Tuscany, and the original modified Ford truck design from Tuscany. It's best described as an amped-up version of the Ford F-150 or F-250 (depending on your power preference), and emphasizes the truck's powerful lines and off-road prowess. It's available in a range of vivid colors.
Black Ops. The Black Ops model from Ford Tuscany was conceived to honor our armed forces who fight to defend freedom around the world. For every Black Ops truck produced, Tuscany donates $200 to the Wounded Warrior Project. This is a stealth truck - coated in special black paint, including "black powder" coating on the bull bar, step bars and exhaust tips.
Tonka. Who didn't love playing with Tonka toy trucks as a kid? The iconic bright yellow work trucks with black accents are a mainstay of playgrounds and sandboxes across the country. Now you can have a real, live Tonka, the latest specialty truck from Ford Tuscany.
Each model features a custom body kit that gives the F-150 or F-250 an eye-popping appearance - distinctive, muscular styling along the sidewalls, with an attention-demanding front fascia and grille that emphasize each truck's primary theme. The Tuscany trucks are also performance-enhanced, with 20-inch BFGoodrich All-Terrain 325 tires (KM2 Mud Terrain tires are available as an upgrade), a 6.0-inch suspension boost and heavy-duty Tuscany performance-tuned shock absorbers.
Inside, the exterior theme of each truck continues, with complementary design accents, including embroidered leather upholstery, custom door panels and floor mats and deep-tinted windows.
For more information on our special line of Ford Tuscany trucks, come by our Brownsville, TX dealership today, or give us a call at (866) 855-0319 to schedule an appointment to order one of these eye-catching models.
To learn more about one truck in particular, click on it below.